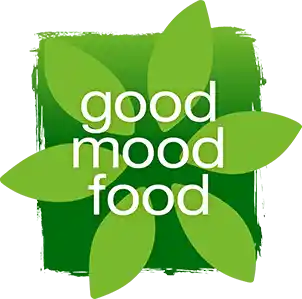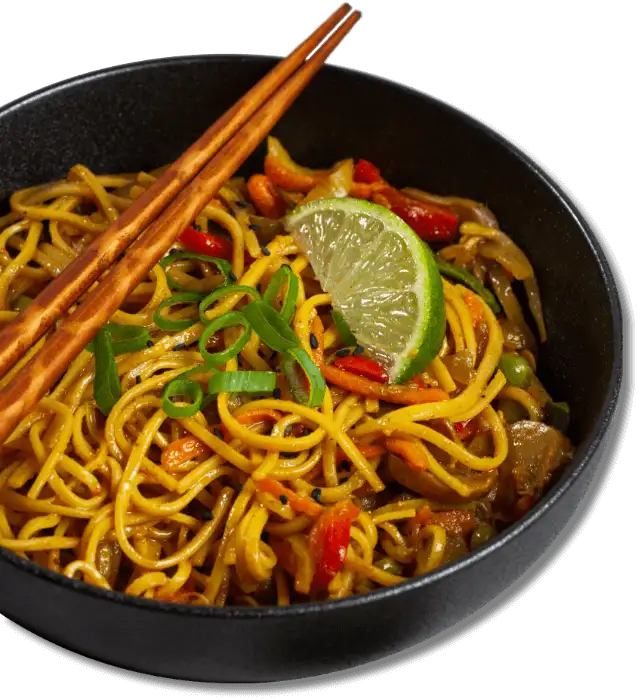 Who We Are
Good Mood Food is a small, local WA business that has been delivering delicious food to the people of Perth since 2003.
We wholeheartedly believe in health, nutrition and flavour and are dedicated to putting our customers in a good mood by providing refreshing, healthy food that your body will thank you for eating.
Owned and operated by a Chef with over 30 years' experience and an unwavering passion for all things food, we are confident as you get to know us you'll discover we are a vibrant, experienced company with some seriously fresh thinking about the food you eat.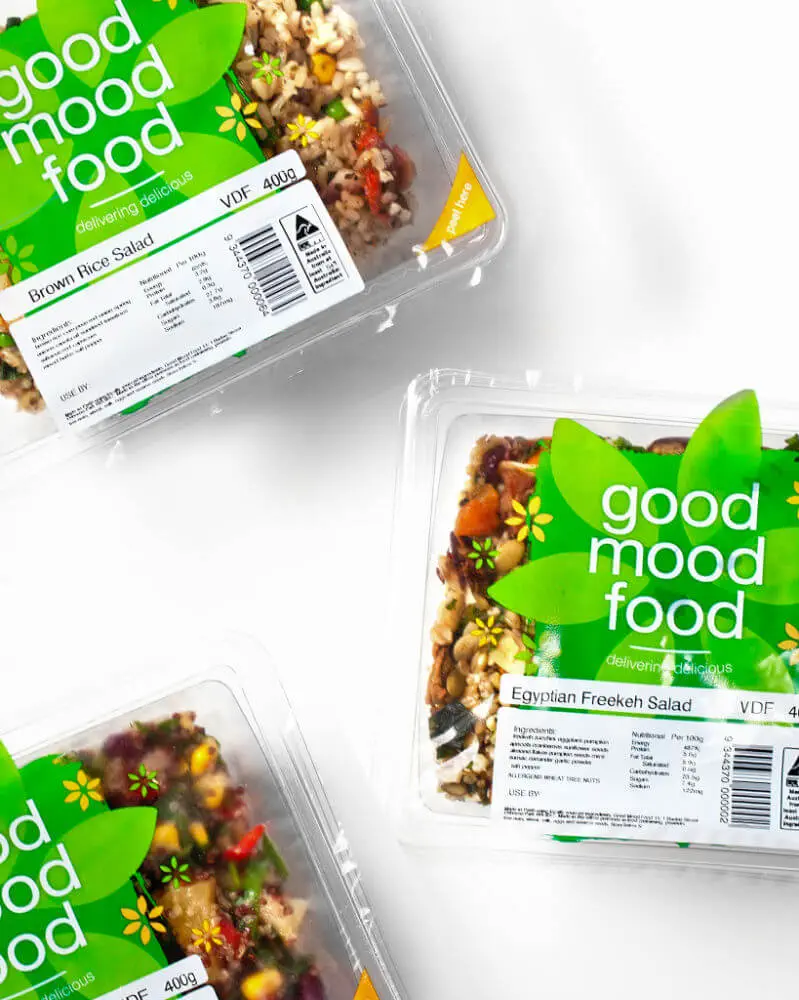 Our Story
Good Mood Food is a Western Australian owned and operated company and initially began as a catering company supplying many sundowners, boardroom lunches, weddings and high-profile events around Perth, but after receiving such positive feedback we decided it was time to spread our passion for food to the wider WA community.
Wholesale began in 2006 and we have been delivering delicious food Perth-wide since. We are proud to say we focus on fuelling your body with delicious foods made from real ingredients and that's why we source and hand-pick the ingredients in your salads from local Perth marketplaces.
It is then brought to our kitchens in Osborne Park where our small team of Chefs prepare our range every day.
We now supply to many local IGA Independent Supermarkets and Fresh Food stores from Halls Head to Karratha. In 2020 we became one of the local suppliers to Costco.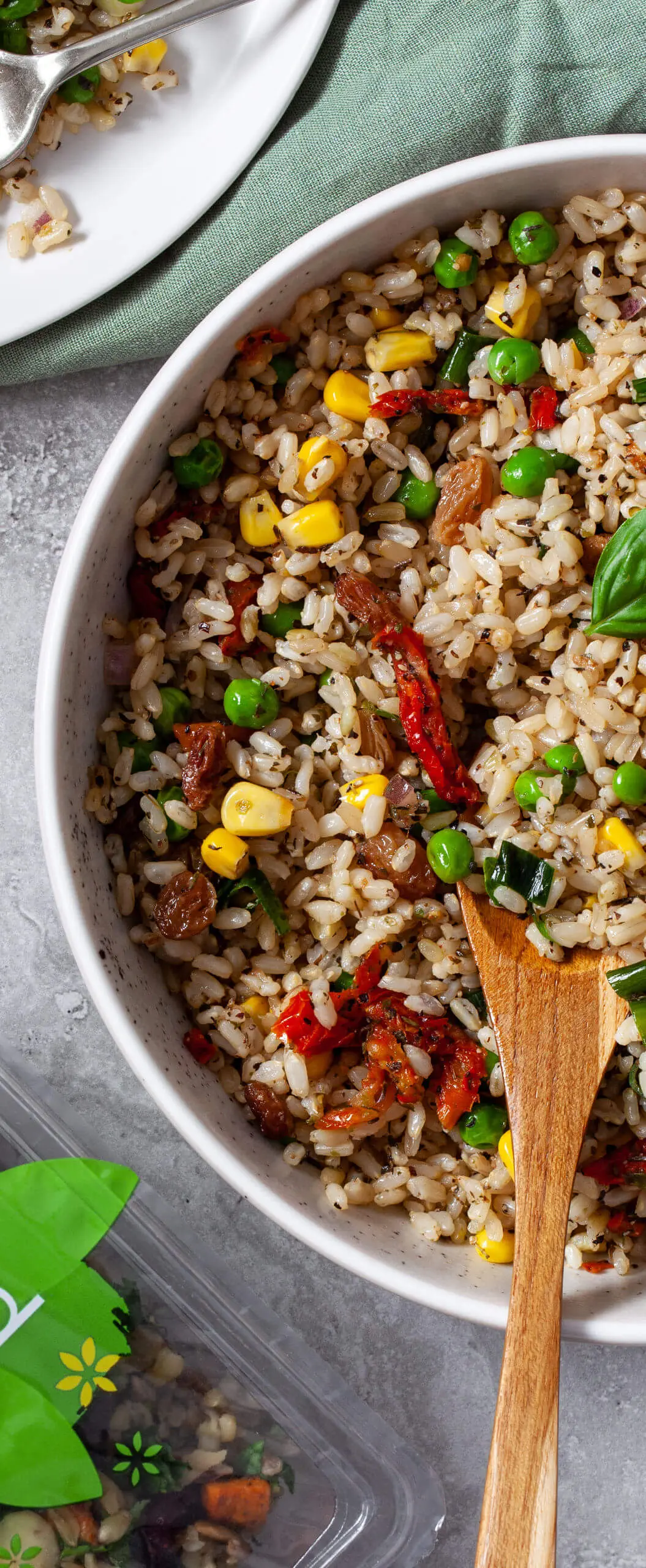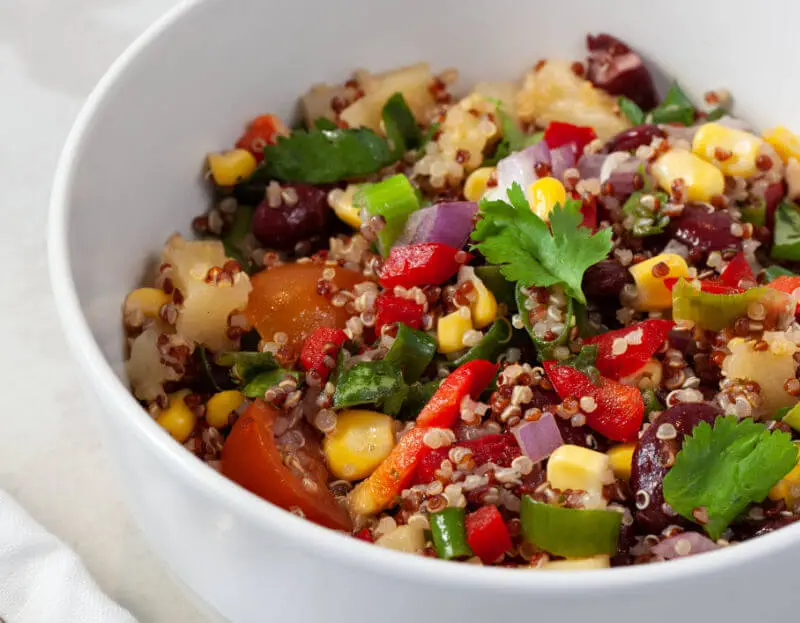 SOUTHERN QUINOA SALAD (vegan)
Jam-packed with Southern style ingredients and the nutty flavour of quinoa, this salad is the perfect wheat-free alternative.
High in protein, containing all nine essential amino acids and versatile for both lunch or dinner, it's no wonder they call it a super food.
EGYPTIAN FREEKEH (vegan)
Made with Egyptian spices, roasted vegetables, dried fruits, toasted seeds and nuts.
Freekeh is made from young green wheat that has been toasted and cracked and is poised to be the next super grain.
Low in fat, high in protein and full of fibre – this vegetarian salad is freeken fantastic!
(photo displays chicken added)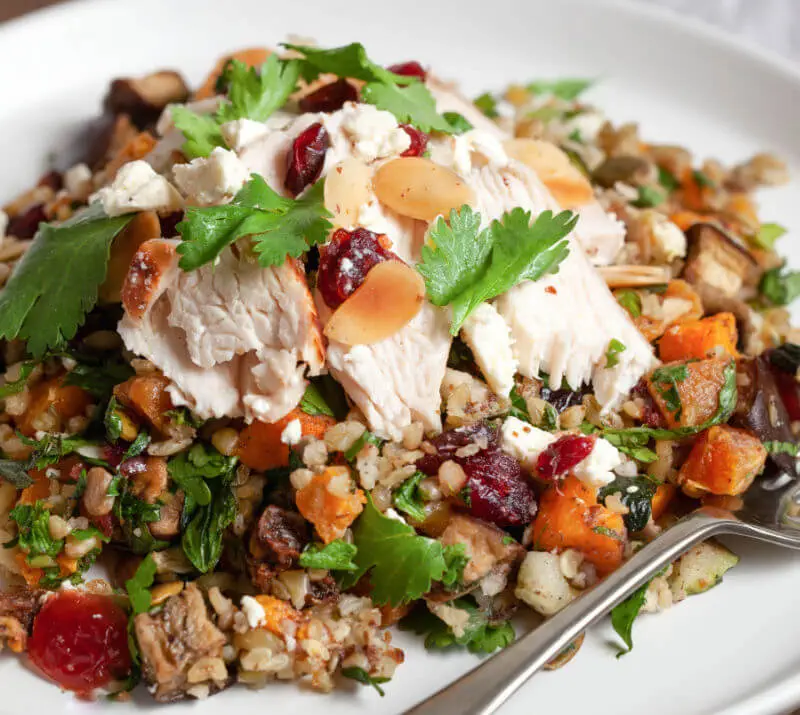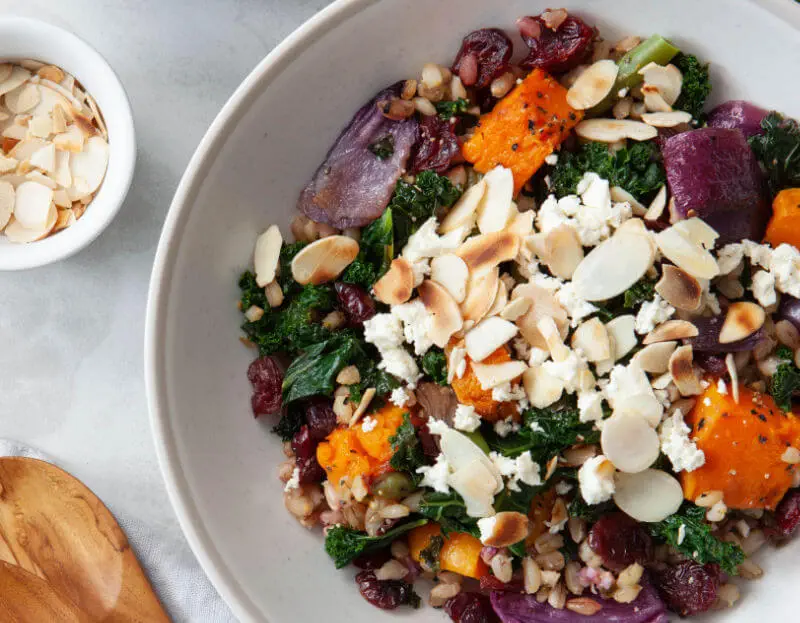 KALE & ROAST PUMPKIN
This salad is for the vegans! Roasted pumpkin and fresh kale mixed with beans, cranberries and pearl barley.
Healthy and scrumptious.
SINGAPORE NOODLE
Asian noodles mixed with bean sprouts & red capsicum is the perfect salad served warm or cold.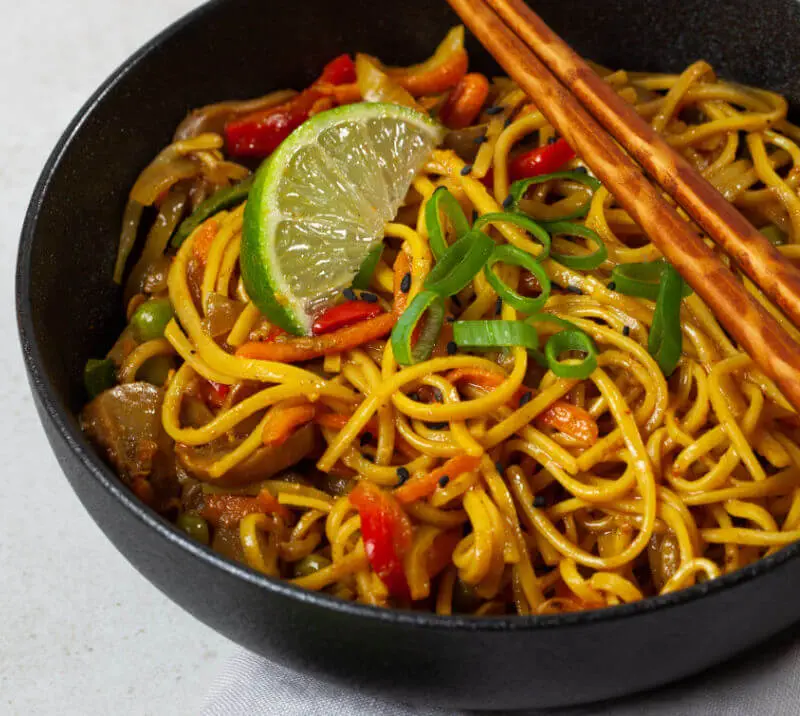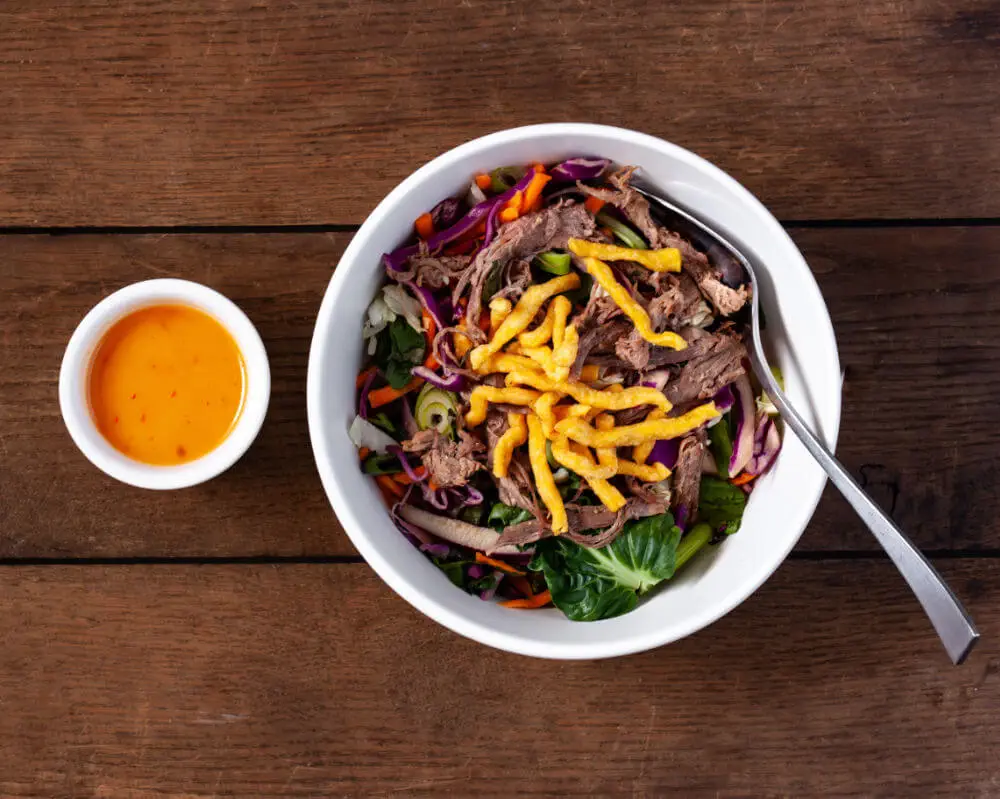 THAI CHICKEN, THAI BEEF & THAI VEGETARIAN SALADS
Asian vegetables served with the perfect balance of sweet, sour and savoury.
Served with our home-made spicy peanut dressing and crispy noodles, this salad is scrumptious as a vegetarian option and even more tasty topped with our seared chicken or beef.
VIETNAMESE NOODLE SALAD
One of our best-selling salads!
This refreshing, healthy and delicious salad is both vegetarian and topped with the authentic flavours of Asia.
Served with our tangy lime and chilli dressing, it has been putting our customers in a good mood for years!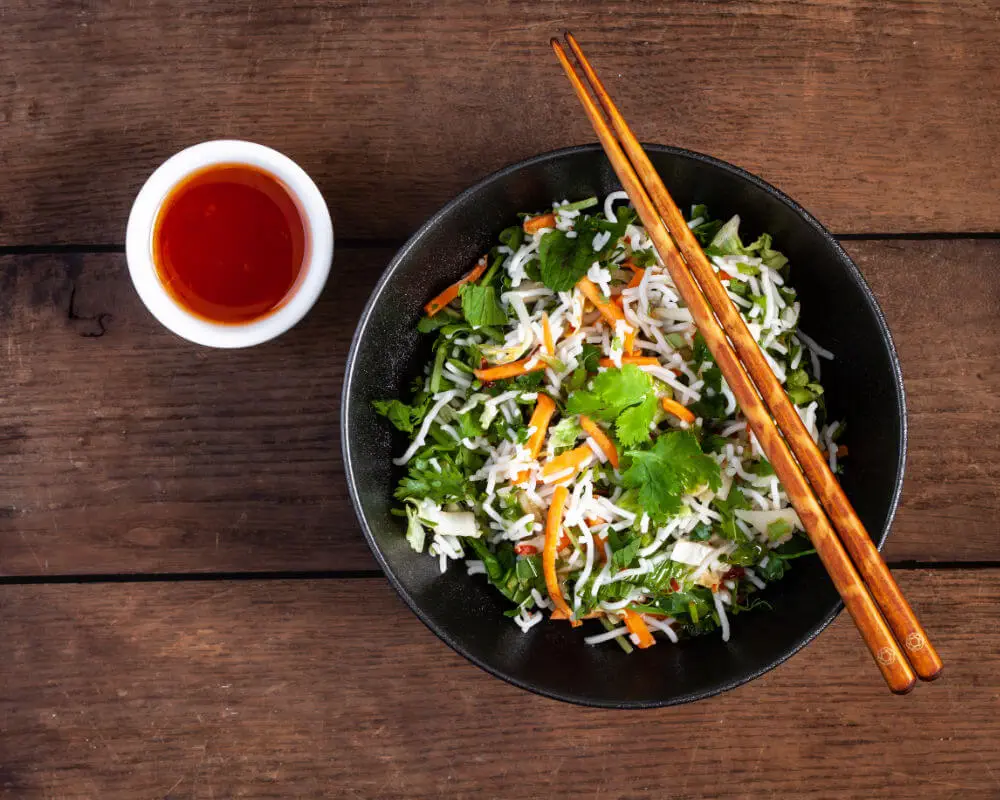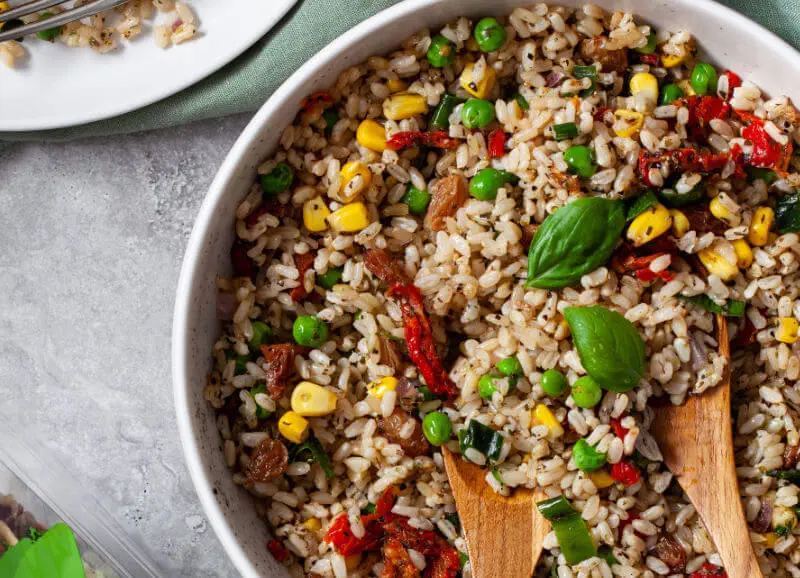 BROWN RICE (vegan)
A wonderful mix of corn, red capsicum, sultanas and sundried tomatoes tossed through brown rice.
This salad is a vegetarian favourite and also tastes great warm.
MOROCCAN CHICKPEA (vegan)
Another vegetarian salad this tasty, high protein salad is a delicious mix of authentic Moroccan spices, chickpeas and roasted vegetables.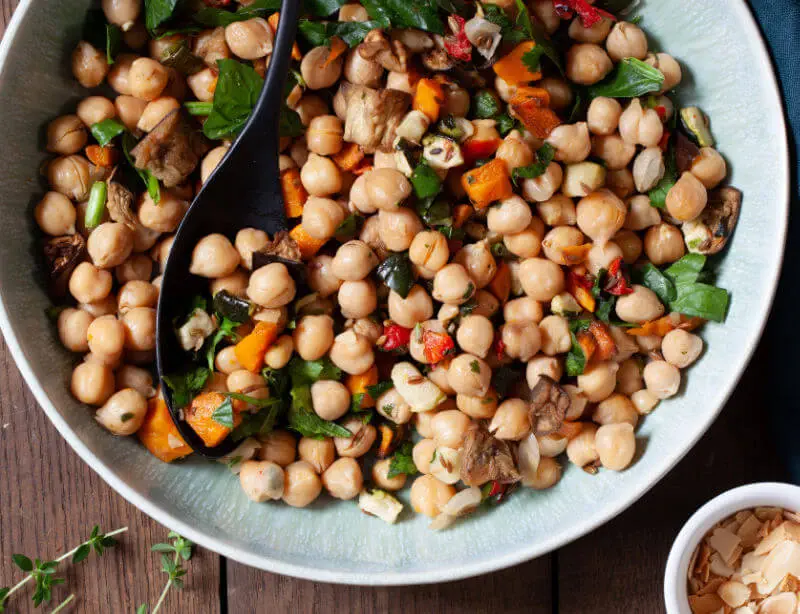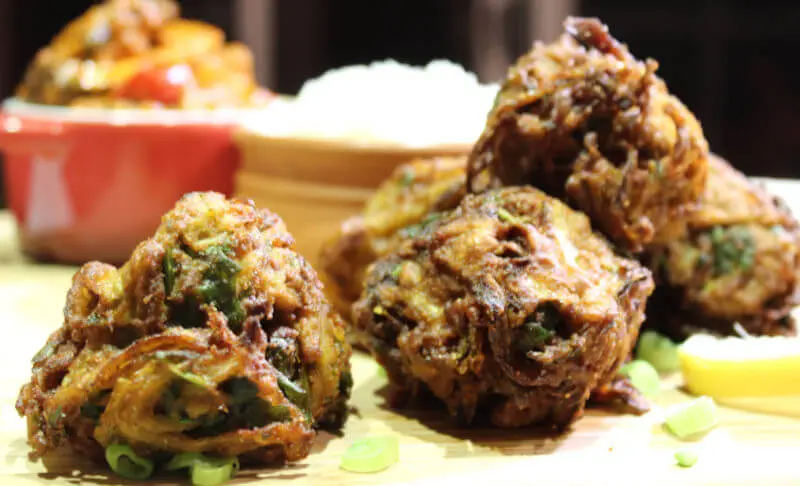 ONION BHAJI
The ultimate Indian comfort food snack.
Spicy, crispy and made with onions, chickpea flour and authentic spices, our Onion Bhajis are the perfect addition to an Indian meal or great to have as a snack!
QUICHES
Our beautifully crisp pastry crust is filled with eggs, milk, cream and a delicious combination of ingredients that will be sure to keep you and your family happy.
Available in a handy two pack, these tasty pastries can be served warm or cold and are available in four different flavours:
Mushroom, Bacon & Roasted Tomato
Spinach, Sundried Tomato & Cheddar (V)
Ham, Cheddar, Caramelised Onions
Spring Vegetable (V)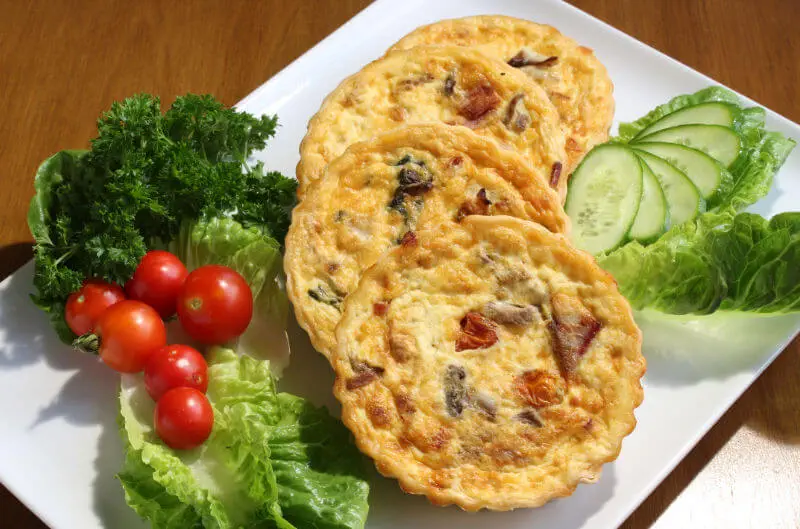 LENTIL TABBOULEH (vegan)
This delicious grain salad is bursting with goodness. Mixed with dried cranberries, parsley, fresh mint and pumpkin seeds it's sure to compliment any meal.
BROCCOLI & BACON
This great salad is perfect for your BBQ or dinner party. Tossed with bacon, cranberries and sunflower seeds and mixed through a tangy lemon mayonnaise.
LEMONGRASS BEEF NOODLE SALAD
This is our refreshing Vietnamese noodle salad topped with a lemongrass infused shredded beef.  Served with the tangy lime and chilli dressing.
PUMPKIN RISOTTO CAKES
Crunchy and golden on the outside and deliciously creamy on the inside, our risotto cakes always have people coming back for more. Whether served with one of our salads for lunch or topped with poached eggs for brunch, they definitely won't disappoint.
TUNA AND SALMON PATTIES
Seriously delicious and super healthy, our tuna and salmon patties are made with quality ingredients and a whole lotta love! Grab one for lunch or dinner and pair it with one of our salads. Yum!
TRADITIONAL SAUSAGE ROLLS
Like most Aussies, we love a sausage roll! Here at Good Mood Food we pride ourselves on our special recipe. Made from seasoned and spiced minced meat wrapped in puff pastry, these little beauties deliver a delicious gourmet flavour.
We also have many other delicious products available, please contact us for a product list.
Want to carry our line?
Excited about our products?
We'd love to hear from you!